Plastic Pipe Extrusion Machinery
Pipe corrugators are used to manufacture many products requiring the continuous extrusion of an endless tube with a circumference of varying diameters. While straight pipe extrusion can be easily accomplished on a traditional vacuum sizing extrusion line, the corrugator offers a unique capability to pass a group of repeating molds past a die extrusion nozzle connected to an extruder.

There are many products manufactured on a pipe corrugator, around a house, within a car or on almost any construction site you'll find some sort of tube that was made on a corrugator. One of the original products to be made using this technology was drainage tubing, but today you will find medical breathing hose, automotive tubing, dishwasher drainage tubes, large diameter sewer pipe and countless industrial extrusions used throughout society.
Some of the more recent interest in using a corrugator for sophisticated extrusions has been in the packaging industry, with the common tin can being a target for a sophisticated tubular extrusion to replace the sleeve of the can. An opportunity yet to be capitalized on, but the production efficiency of a corrugator making endless tubes is far more efficient than any blow molding machine forming ends which are later cutoff.
We offer the Unicor technology for sale in North America. Having been the Unicor agent since November 2000 we have countless experiences with very small to very large diameter projects. We have learned that Unicor have a great aptitude at developing new products, and look forward to working with any company on a proprietary development.
» Small diameter pipe corrugator for 3mm – 100mm ID corrugated pipe

Used for technical pipe applications such as automotive tubing, convoluted tubes, appliance, house ware, electrical duct and many other tube applications, these corrugator models offer a tremendous amount of flexibility.
Available in fixed or variable length, blow molding or vacuum forming, horizontal or vertical design, there are innumerable choices to meet your specific tubing extrusion application.
Unicor have a wide range of experience with materials, and typically have a machine available for production trials.
» Middle diameter pipe corrugator 100mm – 800mm (4″ – 20″) ID corrugated pipe

Typically used to produce single wall corrugated pipe and double wall corrugated pipe this range of machinery includes the Unicor UC100 water cooled high speed vacuum corrugator along with the UC250 and UC500 models. With the recent addition of the Fraenkische line of pipe corrugators there is also a machine available to 800mm.
Utilizing water cooled mold blocks, these corrugators are ideal for running in highly variable temperature environments, especially hot plants above 100 degree fahrenheit. Unicor's corrugator designs with the tight inlet radii allows for doublewall die designs with very short die sets, allowing for lower back pressure with the result of very high outputs.
Typical materials run on these machines will be HDPE, PVC and PP.
» Large diameter shuttle pipe corrugator 200mm – 1800mm (10″ – 60″) ID corrugated pipe

The Unicor shuttle technology has been developed over the past decade evolving to a very simple and efficient drive system to cycle the water cooled mold blocks through the pipe forming middle channel. The first inventors of the shuttle concept Unicor have developed a number of machine models to cover the wide range of diameters that can be made on this machinery platform.
The recent redesign of the shuttle corrugators to meet the needs of the North American market has resulted in a corrugator carrier design of 24″, giving the customer the opportunity to match existing mold blocks or profile designs on the corrugator.
All Unicor shuttle corrugators are based on water cooling and vacuum forming for the mold blocks, however it may be possible to use air cooled molds if the customer does not require the output and diameter control inherent with water cooled molds.
Pipe Corrugators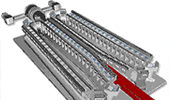 We are the North American Agent for Unicor GmbH, and have been selling and servicing their equipment for over 12 years. With many customers making corrugated pipe throughout North America Unicor are a world leading make of pipe corrugator technology. Get in touch with us for a quotation.
Downstream Equipment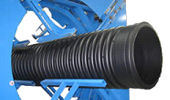 We offer a broad range of pipe extrusion downstream equipment. This includes pipe cutters, takeoff tables, crating equipment and many other accessory machinery used in a pipe plant. The equipment is made in Exeter Ontario by Adescor who have been building machinery for pipe extrusion plants for over 20 years.
Pipe Coilers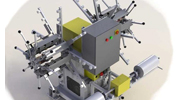 We offer a range of pipe coiler solution for winding pipe or profiles in extrusion plants. From small manually operated single reel machines to large double head fully automatic systems, we have a pipe winder solution that will meet your needs. The machinery can be used in both solid wall or corrugated pipe extrusion systems.
Mould Blocks and Test Runs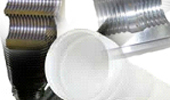 We offer replacement molds for many types of pipe corrugators used in North America. We also offer proto-typing capability for technical tubes and hoses through a number of our partners. If you need molds made for a new part, and want us to organize the test run, we are happy to do so.