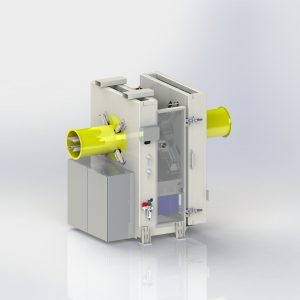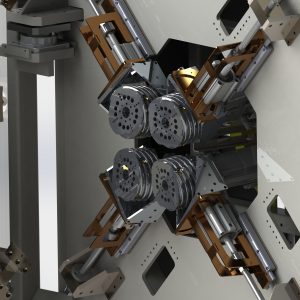 ADESCOR offers a high end machine for the perforating of small diameter pipe. The Servo Perforator is a more reliable perforating option that eliminates the maintenance and wear parts that typical perforators have.
Each worm (perforator wheel) of the Perforator is driven by an individual servo motor and gear box. By doing this we eliminated the need for universal joints, bearings and belts. All of these items are usually the first things to wear out on a machine like this. By replacing them with servos, the machines efficiency doubles or triples, because the amount of downtime is cut down so much.
The machine is easily adjustable to accommodate multiple sizes. Each worm has the ability to be moved in and out, as well as pitched to accommodate different profile types. The worms themselves can also be changed out by removing one bolt per worm, to be swap out with a different sized worm. The knives in the worms themselves are also easily adjusted in and out and easy to replace for different slot sizes.
 FEATURES
› Pipe diameters 3″-8″
› Integral bell detect and skip
› Capability of over 100ft/min line speed
› Dancer speed control
› HMI recipe capability
» Pipe Cut-offs » Spin Welders » Inner Liner Trimmers » Conveying / Handling » Fabricated Fittings » Scrap Converter » Large Hole Perforator » Test Equipment » Wrappers » Bandsaws » Coilers » Part Detection Equipment » Servo Perforators » Sheet Winders » Full Downstream Solutions