Machine Offering Unicor UC15 Corrugator Extrusion Line   (complete or individual)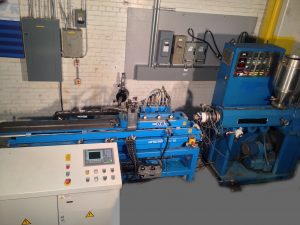 Extruder:   
Akron extruder built 1993
   1.5 inch by 26:1,   L/D screw
10 HP. DC Drive, with Tach feedback
4 Barrel zones
480 Volt, with air cooling
4 Die zones at 240 volt
43.5 inch, (1100mm) extrusion centerline
Does have caster, and straight wheels
Extrusion Die:  Single layer spider die included
Built and as supplied by Unicor
Capable of upto 0.590 inches (15mm) outside diameter of pipe
240 Volt heater bands included
Gate flange adapter is bolted to the die body
Can be operated with an air blow assist for forming
Corrugator:    Unicor UC15 Vario,  63 to 150 pair of 30mm wide mold blocks
Mold chain length is variable by using different mold tunnel modules. 6 various modules included.
Mold tunnel is water cooled.
Corrugator uses vacuum forming with individual segment control
Vacuum pump 10 HP. is included in the offering
One set of 120 pair of 8mm tubing molds are included
Remote control console pedestal included
Currently less than 200 Operating hours
Extrusion Centerline is 43.5 inches (1100mm)
HMI panel has coloured screens, with function key activation
Optional Extra: 
Tubing Cut to length machine with flyknife, hauloff , and takeoff conveyor included.
Can be operated offline by using precoiled spools
Coilers:            Available in different size package configurations