Although Adescor has been known mostly in the past as a supplier for specific machines, in the past few years we have had a lot requests for a complete solution for customers downstream needs. What does that mean?
It means that the customers needs begin from where the product is produced, and their needs end when the product is ready to be removed from the building.
This usually requires Adescor to build multiple machines that are synced together through the programming software and controls, to work together to preform various operations. We have manufactured multiple setups like this and in different industries, and have been quite pleased with our customers positive feedback.
most popular machine request since being in the market of equipment building is Coilers. Coilers themselves can range in such a wide variety and complexity. We have built simple Coilers that require mostly operator labour to produce a coil, we have built some with a lot of automatic functionality that requires minimum operator control.
Depending on the product that the customer is planning on running has a lot to do with how the Coiler is designed and how complex it needs to be. Below you will see numerous styles and types Coilers we have built in the past with a couple bulletins on what is expected with each Coiler.
                                                                       Full Downstream Solutions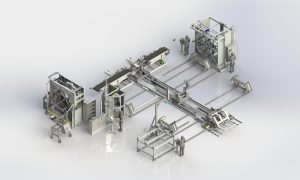 FEATURES
› Ability to have multiple machines communicate to one another
› Automated system with limited operator needs
› Pick and Place capabilities for product movement
› Ability for data logging and production efficiency tracking
Links to Video's:
» Pipe Cut-offs » Spin Welders » Inner Liner Trimmers » Conveying / Handling » Fabricated Fittings » Scrap Converter » Large Hole Perforator » Test Equipment » Wrappers » Bandsaws » Coilers » Part Detection Equipment » Servo Perforators » Sheet Winders » Full Downstream Solutions